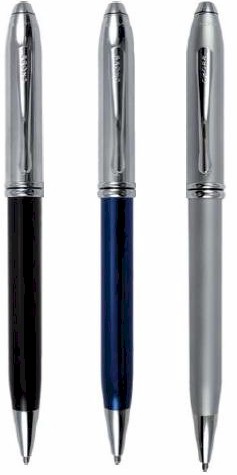 London Luggage Shop :: Brands :: Cross Pens
One of Cross' most celebrated writing instrument, the Townsend ballpoint pen features a perfectly engineered wide-diameter barrel for a lifetime of smooth effortless writing. Available in two rich lacquer finishes or modern satin chrome and accented with lustrous chrome plated appointments. Presented in gift packaging, each Cross pen is a perfect solution for all gift giving needs. This is of special pricing value since these have been previously priced at 90.00.
Townsends
#CRS with chrome appointments 55.00
These pens are in stock, we also can engrave up to 18 characters (block style) per line for only $3.00 per line. Simply list desired engraving under "special instructions" when ordering. Customers have responded to these items so if you are interested don't wait.
To purchase select color and add to cart. See "add to cart" button located on right hand side. To speak to us directly feel free to call toll free 877 370-2353 during business hours.