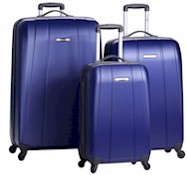 Search Brands >

>

>Delsey Luggage >>
HELIUM

Shadow Series


Delsey Luggage has redefined the term Lightweight in the luggage industry. The HELIUM lines are up to 40% lighter than any other luggage available on the market today. In keeping with this new standard, Delsey has created the Helium Shadow collection a hardside polycarbonate line that is extremely lightweight. And the four 360 degrees rotation wheels assure multidirectional rolling. Available in Purple, Blue or Platinum.
Other Delsey Series...
Helium Breeze popular
Helium 250 GX value
Helium Pilot strongest
Meridian Plus hardsided
Airline Luggage Restrictions
Be smart before you buy!