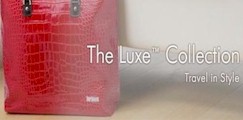 Hartmann Luggage >>> Luxe Collection
The luxurious Luxe™ Italian Embossed Leather Collection. Exquisitely handcrafted from sumptuous Italian Embossed Leather featuring a Crocodile imprint design, this collection is perfect for those that appreciate modern performance and elegant style with superior craftsmanship. From PDAs and digital cameras to cell phones and mp3 player models, you will find a plenitude of styles to protect your most cherished electronic devices.
>>> Hartmann has a new promotion starting ..