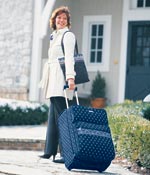 The

ir

story is a testimony to the American Dream: While on vacation in March of 1982, Patricia and Barbara were awaiting a flight when they began to notice a definite lack of feminine luggage. The longtime friends wasted no time in correcting this situation. Within weeks, these dynamic women had created a company, named after Barbara's mother, capable of marketing and manufacturing their cleverly designed products. The demand for their unique

items

has grown and so ha

s their company

, which is now nationally and internationally recognized. Upgrade your travel experience with

a complete set.

Available in Signature Red, Blue and Black.

We carry the full line in our downtown showroom. Please call for more information. Call us toll free 877 370-2353.

Lightweight, strong and unique. Rolling Carry-ons, Upright Wheelers, Duffles and Totes make for a full selection that will impress the most sophisticated of travelers. Give us a call to learn more.